The Blue Bird Shop absolutely vibrated with excitement as we held our first-ever recruitment event. The crisp Fall evening certainly turned out to be one to fall in love with Blue Birds!At 7:00 sharp, a surprise announcement awaited the crowd of 150 after President Pat Edwards thanked 1st VP Ellen Stough for planning the party.
Then she called up Dr. Mark Kline, Physician-in-Chief of Texas Children's Hospital. On behalf of the Blue Bird Circle, she presented a check for a gift of two million dollars to establish The Blue Bird Circle Endowed Chair for Pediatric Neurology and the Neurosciences!
The gasps of surprise from the crowd were audible!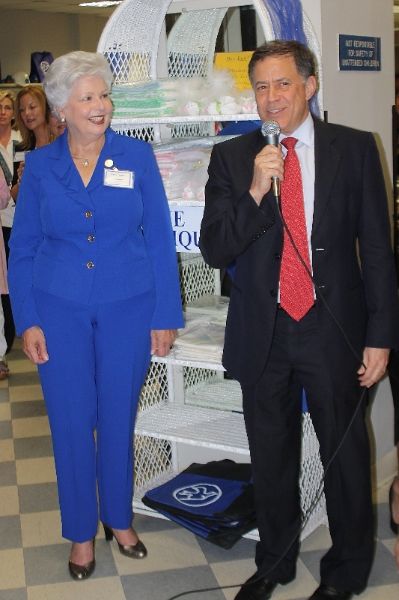 The endowed chair will provide funding for Dr. Gary Clark, the current Chief of the Department of Pediatric Neurology and Neurosciences at Texas Children's Hospital in perpetuity and for his successors.
"It will be only one of four endowed Chairs in pediatric neurology in the entire country," said Dr. Robert Zeller, Director of the Blue Bird Circle Clinic for Pediatric Neurology, who planted the seed for the idea last spring with past Blue Bird President, Maggie Austin.
Below are some beautiful photos of the evening. Please enjoy!